zero point recipes freestyle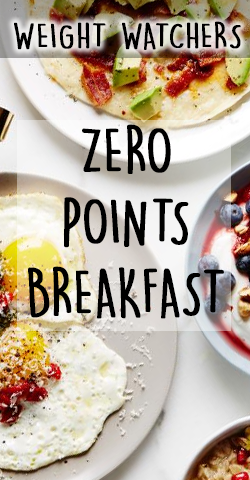 5 | muffin tin eggs
These muffin tin eggs can be made with just eggs and veggies, but we prefer them with turkey sausage. Since traditional turkey sausage you buy in the store does have points, we are including the ingredients to make your own homemade turkey sausage.
Ingredients
12 eggs
1 teaspoon Montreal Steak Seasoning Blend
1 red, orange, or green pepper, diced
½ pound 99% fat-free ground turkey breast
½ teaspoon sage
½ teaspoon salt
½ teaspoon black pepper
¼ teaspoon red pepper flakes
¼ teaspoon marjoram
Non-Stick Cooking Spray
Instructions
Preheat oven to 350 degrees.Spray a muffin tin with non-stick spray.
Spray a large non-stick skillet with non-stick spray. On medium heat cook ground turkey, sage, salt, black pepper, red pepper flakes, and marjoram for 7-10 minutes or until cooked through. Stir consistently to prevent sticking.
While turkey is cooking, in a large bowl, beat eggs and Montreal steak seasoning together until well mixed and fluffy (2-3 minutes).
Stir in diced bell pepper.
Once the turkey is cooked through, spoon into the muffin tins spreading equally between each muffin tin.
Pour egg mixture over the turkey filling ¾ of the way full.
Bake at 350 degrees for 30 minutes.
4 | 2-Ingredient Pancakes
weight watchers pancakes
Ingredients
1 ripe banana
2 eggs
optional: vanilla & cinnamon
Directions
Mash a ripe banana in a bowl. Whisk in two beaten eggs.(These pancakes have a little PB2 and cinnamon added to the batter.)
Spray non-stick griddle with Pam cooking spray. Drop onto hot non-stick griddle by heaping tablespoon.
Makes about 12 "dollar-size" pancakes for zero points.
No syrup needed!!
Add 2 Tablespoons flour to make it a waffle mix.
NOTES:
Put a pinch of baking powder in the mix for a little extra puffiness.
1/4 cup of sugar free syrup is 1 pt.
source: slapdashmom.com
3 | Strawberry FroYo Bark
0 Freestyle Smart Points
Servings: 3 Time: 10 mins plus 1 hour in the freezer
Ingredients:
1 cup non-fat Greek yogurt
1 teaspoon imitation vanilla
2 Splenda packets
4-6 medium strawberries
1 tablespoon cocoa powder (completely optional, I just thought it needed more color)
Directions
In a small bowl, mix the yogurt, vanilla and Splenda.Line an 8 x 8 baking pan with parchment paper. Pour the yogurt mixture into the pan evenly.
Cut up the strawberries and add them to the yogurt. I pushed them into the yogurt slightly.
Add the cocoa powder using a mesh strainer.
Freeze for 2 hours.
Servings: 3 Time: 10 mins plus 1 hour in the freezer
source: keepingonpoint.com
2 | Weight Watchers banana souffle
Prep time: 5 mins Cook time: 3 mins Total time: 8 mins
Serves: 1
This Weight Watchers banana souffle recipe is zero Freestyle points! It's also made with all whole ingredients.
Ingredients
2 bananas
2 eggs
Instructions
Mash bananas with a fork.Add 2 eggs.
Mix all well.
Bake in microwave for 3 minutes. Check if center is done. If not, cook for 1 minute more.
Top with a sprinkle of cinnamon if desired.
source: theholymess.com
1 | scrambled eggs with veggies
Ingredients
6 Large Eggs (Cage Free)
1 Organic Tomato Diced
3 Cups Organic Baby Spinach
½ Organic Red Onion Diced
1 Clove Garlic Crushed & Minced
1 Teaspoon Fresh Cracked Black Pepper
1 Teaspoon Kosher Salt
½ Cup Organic 2% Sharp Cheddar Cheese (we love Cabot brand)
1½ Tablespoons Organic Extra Virgin Olive Oil
Instructions
In a large bowl, beat together eggs, black pepper, and salt, set aside.Bring olive oil to temperature in large skillet
Add in tomato, spinach, onion, and garlic and sauté for 5-7 minutes or until veggies are cooked through.
Pour beaten eggs over vegetables and cook for additional 3-4 minutes stirring occasionally. Cook until egg is set.
Remove from heat and sprinkle with cheese.
Makes 6 Servings 5 PointsPlus per serving 3 SmartPoints per serving on Beyond the Scale 1 SmartPoint per serving on FreeStyle Plan or FlexPlan
Prep time: 5 mins Cook time: 10 mins Total time: 15 mins
Serves: 6
0 | breakfast egg muffins
These make ahead Western Omelet Muffins make it easy to enjoy a light and healthy breakfast on the go.

Servings: 6
Prep Time 10 mins | Cook Time 25 mins | Total Time 35 mins |

Ingredients

Nonstick cooking spray
6 large eggs
6 large egg whites
1/4 teaspoon kosher salt
Freshly ground black pepper
3 ounces sliced ham about 4 slices finely chopped
2 ounces reduced fat Swiss cheese chopped I substituted cheddar
1/2 cup finely chopped red or orange bell pepper
1/4 cup chopped scallions

Instructions

Heat the oven to 350F degrees. Lightly spray a standard 12-cup muffin tin with nonstick cooking spray.In a medium bowl, whisk together the eggs and egg whites. Season with salt and a pinch or two of black pepper. Mix in the ham, cheese, bell pepper and scallions.

Pour about 1/4 cup egg mixture into each muffin cup and carefully place in the oven.

Bake until the eggs are set, 20 to 25 minutes.

Remove from the oven and enjoy or cool completely and store covered in the refrigerator.

Recipe Notes

Nutritional Estimates Per Serving (2 omelet muffins): 119 calories, 6 g fat, 2 g carbs, 0.5 g fiber, 14 g protein and *3 Weight Watchers Points Plus, 3 SmartPoints, 1 WW Freestyle SmartPoints

Source: simple-nourished-living.com